Supplies Needed:
Paint Shop Pro
Tube of choice - I am using Pinuptoons - Purchase at
CDO
Also Robert Alvarado - Purchase at
PTE
. (I purchased this tube at MPT)
You must have a license to use these tubes.
Scroll down the page and on the right hand side you'll see a download for Masks 241-300
Filters Used: Xenofex 1.1 - Showerdoor (optional)
Alien Skin Eye Candy 5 Impact-Gradient Glow (optional)
Please don't forget to leave a lil love when downloading!

This tutorial was written assuming you have a working knowlege of PSP.
Click on any image to view at actual size.
Ready? Ok lets have some fun!
Open your Cluster frame is Psp - Duplicate (Shift +D) and close original frame - Resize to 473 x 600 px. Change your canvas size to 550 x 650px - Grab your move tool and move the frame slightly to the right so the square part of the frame is centered on your canvas.
Add a new raster layer and move it under frame > Select all > Flood fill with #d09aee > Select none.
Apply WSL Mask 272 > Merge group. Click on your Pick tool. Grab the left corner upper node and drag the mask up and to the right until the "bow" is right under the rounded corner of the frame.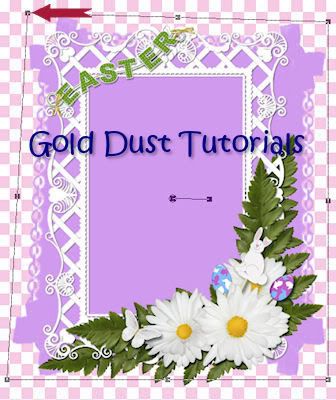 Adjust 3 remaining corners of mask so they are all alike.
When you like how it looks, apply Shower door filter with default settings.
Add a new raster layer. Select all - Flood fill with #6c9022 > Select none.
Apply WSL Mask 285 > Merge group. Again, click on your Pick took and arrange mask so greenery is just peeking out from under the frame.
Add a new raster layer and move it underneath the cluster layer. Open DBA Paper 35 and paste into selection > Effects > Texture Effects > Weave = Gap size 2 - Width 10 - Opacity 2 - Weave and Gap both White - Fill gaps ticked. Keep selected.
Paste your main tube as a new layer. When happy with placement - Selections > Invert and hit delete on your keyboard. Select none. Duplicate > Adjust > Blur > Gaussian Blur=3. Change blend mode to soft light. Activate original tube layer - Adjust > Sharpness > Unsharp mask with default settings. Apply drop shadow. I used: V & H=2 - Opacity 40 - Blur 4 - Black.
Now add any elements you want to your tag. I didn't add many because I liked it as is. I used:
DBA Easter Chick 6 - Resized 30%
DBA Easter Stickers 3 - (bee)
DBA Flowers 9 - Resized 50%
DBA Bow 5- Resized 30%
Add a drop shadow to all elements - I used V & H=1 - Opacity 45 - Blur 7 - Black
I also applied a lighter drop shadow to the green mask layer - V & H=1 - Opacity 30 - Blur 3 - Black
If you are going to resize your tag, do it now.
Add appropriate copyright, license number and your name.
Hide white background layer - Merge visible and save as a PNG.
Here's another example using the awesome art of Robert Alvarado.
And your all set to enjoy your new Easter tag!
Happy Easter! Hope to see you back soon!